Superhound
Just a short post tonight guys.  I just wanted to let you know that Mungo is home and is doing very well.  Really, dogs never cease to amaze me.  How long do you think you would be bed ridden after having a limb amputated?   How long would it take you to get up and get on with your life?  Twenty four hours?
Mungo is doing great.  He hopped out of the hospital, faster than his nurse could walk.  He hopped to the car and with very little assistance, got into the back, and settled down for the drive home.  When we got home, I helped him out of the car (barely) and while I was getting other things out of the car, he hopped to the house, went up the stairs and waited for me to open the back door…without assistance.
He ate his supper with gusto, and then tried to convince us that we should share our supper with him as well (But Mom, I'm disabled!).  He then hopped up on the couch, in his regular spot, and curled up for a nap.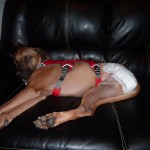 SUPERHOUND!!