Turtles of the Trip
Hello!!!! Starting from Mexico, I've been collecting turtles. Not real ones of course, but little sculptures of them .
Here are my turtles in order from favourite to least favourite.
1. Amber turtle from Mexico
2.Silver turtle from Colombia
3.Seed mama turtle from Ecuador
4.Wooden turtle from Guatemala
5.Machu Picchu stone turtle from Peru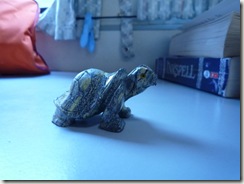 6.Paper turtle from Peru
7.Seed necklace from Panama
8.Jade turtle from Guatemala, Antigua
9.Ceramic turtle from Bolivia
Oops, sorry! This is it
10.Wooden turtle from Costa Rica
And last but not least,
11.Stone (don't ask what types, I don't know) turtle from Costa Rica (same place as the wooden one on my b-day)
I was going to collect SKULLS, but today I found out that a turtle gives you a long life and that a skull scares evil spirits away! I got a turtle AND a skull today at the Witches Market! I get a good, long life!!! Hooray!!
Oh, and for my favourite one can you see it's cuteness?? Look again!
Ugh! Wrong picture again.
Here…